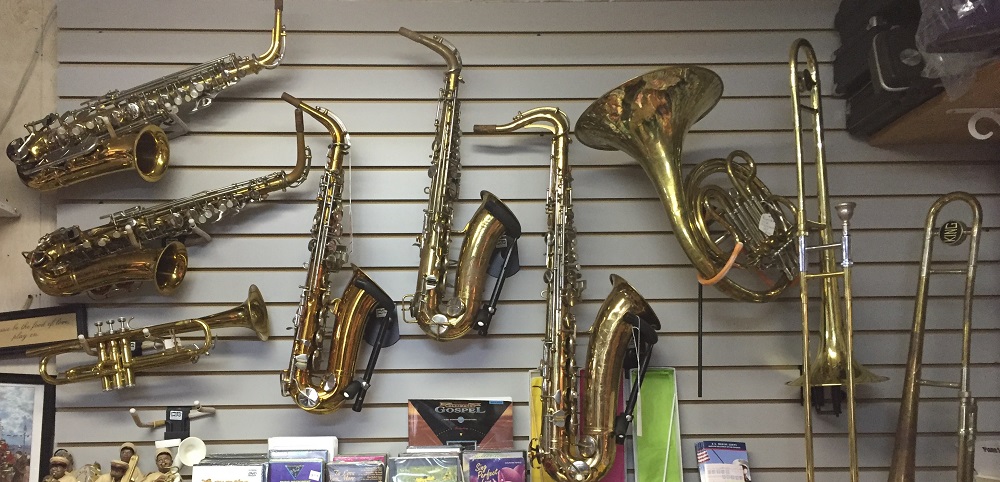 Yes, we are a full service, locally owned music store! Including all the items you see on this webpage, we do carry a full line of accessories and other musical items. We have Strings, Reeds, Valve Oil, Books, Mutes, Picks, Microphones, Amps, Cables and everything else you would expect to find in a music store. Please come in and visit us!
What We Sell:
We specialize in unique and hard to find musical instruments. So, we do have some instruments that we regularly carry, but much of our stock is rotating because it is unique. Some items we always try to have for sale are:
Irish Button Acorrdions,

Concertinas, and Accordions of all types

Boxeen, Hohner, Excalibur, Milan, Carlo Robelli and Paolo Sopranis

Banjos of all types including Deering Banjos, Vega, Gibson, Good Time, Gold Tone and more

Left handed Banjos

Trumpets

Cornets

French Horns

Trombones

Valve Trombones

Baritone Horns

Hammer Dulcimers

Mountain Dulcimers

Folk Harps

Auto Harps

Acoustic Guitars

Electric Guitars

Acoustic Electric Guitars

Left Handed Guitars of all styles

Mandolins

Irish Bouzoukis

Bowed Psalterys

Ukulele of all types

Tenor Ukulele

Bariton Ukulele

Tenor Guitars, which can be restrung to Ukulele tunings

Cremona Violins

Woodwinds of all kinds

Alto Saxes

Tenor Saxes

C Melody Saxes

Clarinets

Albert System Clarinets

Flutes

Piccolos

Irish Percussion

Latin Percussion

Susato Irish Whistles

Sweetone whistles

Waltons Irish Percussion
And More!
We try to have as many of these items in stock and for sale as possible at all times, both used and new. If you are ever looking for something and can not find it on our webpage, please, contact us. We have many items that are not listed online and even if we don't have it, we can help you find it.